Nestled in the heart of Arizona's stunning Red Rock Country, Sedona is a captivating destination known for its breathtaking landscapes, spiritual energy, and vibrant arts scene. Whether you're seeking a tranquil retreat, an adventurous outdoor experience, or an exploration of spiritual healing, Sedona has it all. To complement this natural wonderland, Sedona boasts an array of exceptional hotels that offer comfort, luxury, and a unique connection to the area's natural beauty. In this article, we'll delve into the top hotels in Sedona, showcasing their distinctive features, amenities, and the unparalleled experiences they offer to guests.
Enchantment Resort
Nestled within the scenic Boynton Canyon, Enchantment Resort is a luxurious retreat that seamlessly blends into the awe-inspiring surroundings. The resort offers elegantly appointed casitas and suites with private decks showcasing mesmerizing views of the red rock formations. With its award-winning Mii amo Spa, exceptional dining options, and an array of activities such as hiking, mountain biking, and stargazing, Enchantment Resort is an idyllic escape for rejuvenation and adventure seekers alike.
L'Auberge de Sedona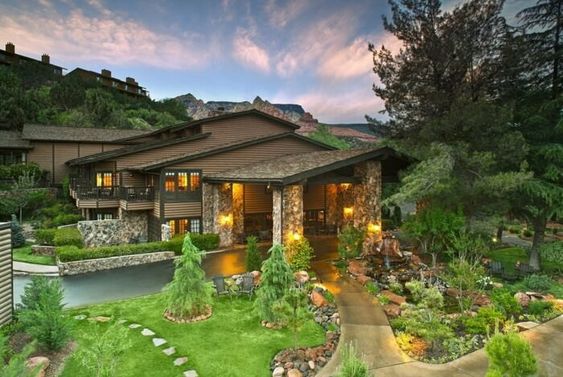 Situated along the banks of Oak Creek, L'Auberge de Sedona exudes rustic charm and understated elegance. The resort's cottages and lodge rooms offer a tranquil retreat, allowing guests to immerse themselves in nature. L'Auberge de Sedona is renowned for its exceptional creekside dining at Cress on Oak Creek, where guests can savor gourmet cuisine while surrounded by the serenity of the creek. The resort also offers spa services, yoga classes, and easy access to Sedona's downtown area, making it an ideal choice for those seeking a blend of relaxation and cultural exploration.
Amara Resort and Spa
Boasting a prime location in the heart of Uptown Sedona, Amara Resort and Spa captures the essence of the region's natural beauty. The resort features contemporary accommodations with stylish Southwestern touches and expansive views of Sedona's iconic red rocks. Guests can indulge in rejuvenating treatments at the Amara Spa, soak in the rooftop pool, or dine at the award-winning SaltRock Southwest Kitchen, which showcases locally sourced ingredients. Amara's proximity to renowned art galleries, boutiques, and hiking trails makes it an excellent choice for both leisure and adventure enthusiasts.
Sedona Rouge Hotel and Spa
Radiating a distinct Mediterranean charm, Sedona Rouge Hotel and Spa offers a serene ambiance amidst Sedona's majestic landscape. The hotel's spacious rooms and suites are beautifully appointed and feature luxurious amenities. The Sedona Rouge Spa provides a sanctuary of relaxation, offering a range of treatments inspired by ancient healing traditions. Guests can savor exquisite Mediterranean-inspired cuisine at the REDS Restaurant and Lounge or enjoy a refreshing cocktail by the outdoor heated pool. With its tranquil atmosphere and proximity to hiking trails and art galleries, Sedona Rouge is an enticing choice for a peaceful and culturally enriching stay.
Adobe Grand Villas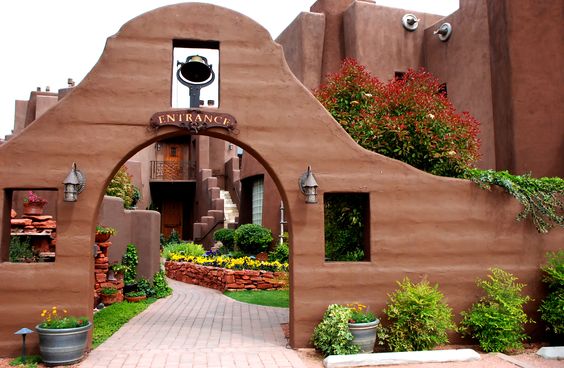 Set against the backdrop of Sedona's red rock formations, Adobe Grand Villas offers a truly unique and enchanting experience. Each villa is exquisitely designed and features luxurious amenities such as fireplaces, jetted tubs, and private patios or balconies. The attention to detail and personalized service at Adobe Grand Villas is exceptional, and guests can enjoy a gourmet breakfast delivered to their door each morning. The hotel's location provides easy access to hiking trails, breathtaking vistas, and the renowned Tlaquepaque Arts and Crafts Village. For those seeking an intimate and romantic escape, Adobe Grand Villas offers an unforgettable stay.
Orchards Inn
Located in the heart of Sedona's Uptown district, Orchards Inn offers stunning panoramic views of the iconic red rocks from its spacious balconies and patios. The hotel's comfortable rooms and suites are designed with Southwestern influences and provide a cozy and inviting atmosphere. Orchards Inn is a perfect base for exploring Sedona's vibrant art scene, boutique shops, and renowned restaurants. Guests can also relax by the outdoor pool or take advantage of the complimentary shuttle service to nearby hiking trails. With its prime location and warm hospitality, Orchards Inn is an excellent choice for those seeking convenience and accessibility.
Kimpton Amara Resort and Spa
Situated along the banks of Oak Creek, the Kimpton Amara Resort and Spa offers a tranquil oasis amidst Sedona's natural beauty. The resort features modern and spacious rooms with elegant decor and breathtaking views. Guests can indulge in rejuvenating treatments at the Amara Spa, take a refreshing dip in the infinity pool, or unwind with yoga sessions in the peaceful outdoor space. The SaltRock Southwest Kitchen, the resort's signature restaurant, serves delicious cuisine made from locally sourced ingredients. With its serene ambiance, top-notch amenities, and proximity to outdoor activities, the Kimpton Amara Resort and Spa is an ideal choice for a luxurious and rejuvenating getaway.
Poco Diablo Resort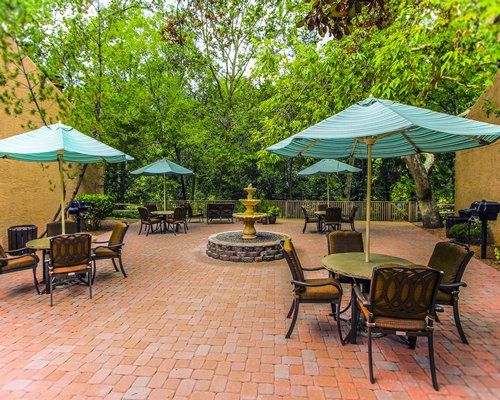 Surrounded by lush greenery and bordered by Oak Creek, Poco Diablo Resort offers a serene retreat just minutes away from Sedona's downtown. The resort features spacious and comfortable rooms with modern amenities and stunning views of the surrounding landscape. Guests can enjoy a round of golf on the picturesque 9-hole course, relax by the outdoor pool and hot tub, or indulge in a rejuvenating treatment at the full-service spa. Poco Diablo Resort also offers tennis courts, a fitness center, and an on-site restaurant serving delicious Southwestern cuisine. With its peaceful atmosphere and extensive amenities, Poco Diablo Resort provides a tranquil escape for both relaxation and recreation.
Conclusion
Sedona's mesmerizing landscapes and spiritual energy have made it a sought-after destination for travelers from around the world. The best hotels in Sedona not only provide luxurious accommodations but also offer a gateway to the region's natural wonders, cultural attractions, and rejuvenating experiences. Whether you seek adventure, relaxation, or a spiritual journey, the hotels in Sedona cater to diverse preferences and ensure an unforgettable stay. From the enchanting Enchantment Resort to the rustic elegance of L'Auberge de Sedona, each hotel on this list embodies the unique charm and beauty of Sedona, making them exceptional choices for a memorable visit to this captivating desert oasis.