Welcome to the enchanting world of Vermont, where scenic beauty, tranquility, and warm hospitality come together to create a remarkable getaway. Nestled amidst the breathtaking landscapes of New England, Vermont is renowned for its idyllic charm and captivating attractions. To enhance your experience, we present a curated list of the best hotels in Vermont. From historic inns exuding timeless elegance to luxurious resorts offering unparalleled comfort, each property has been handpicked for its exceptional amenities, attentive service, and remarkable ambiance. Whether you seek a peaceful retreat in the countryside or a vibrant stay in the heart of a charming town, these hotels promise to elevate your Vermont adventure to new heights.
The Equinox, Manchester Village
Nestled in the picturesque town of Manchester Village, The Equinox stands as an iconic luxury resort that seamlessly blends historic charm with modern elegance. With its origins dating back to the late 18th century, this grand hotel offers guests a unique opportunity to immerse themselves in a rich heritage. The Equinox features spacious and beautifully appointed rooms, each offering a harmonious blend of comfort and sophistication. Indulge in exquisite dining options that showcase Vermont's culinary excellence, pamper yourself at the world-class spa, or engage in outdoor activities such as golfing and hiking. The Equinox embodies the essence of Vermont, providing an unforgettable experience for its guests.
The Woodstock Inn & Resort, Woodstock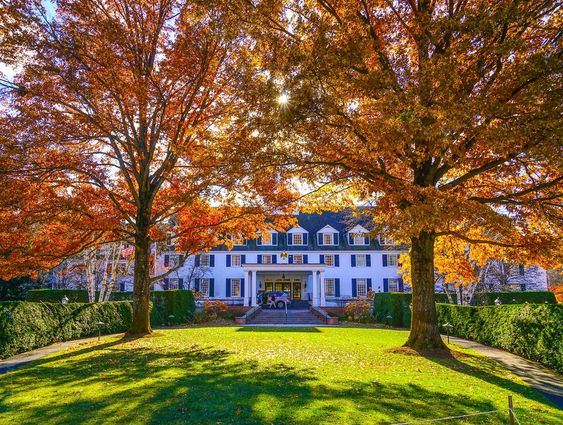 Located in the heart of Woodstock, The Woodstock Inn & Resort offers a quintessential Vermont experience. This award-winning hotel exudes warmth and charm, providing guests with a sense of tranquility amidst its beautiful surroundings. The accommodations at The Woodstock Inn & Resort are both luxurious and cozy, offering an ideal respite after a day of exploring the charming town or indulging in outdoor adventures. Immerse yourself in the hotel's exceptional amenities, including a full-service spa, a fitness center, and a variety of dining options that showcase locally sourced ingredients. Whether you're seeking relaxation or excitement, The Woodstock Inn & Resort offers the perfect balance for an unforgettable Vermont getaway.
Twin Farms, Barnard
For those seeking an exclusive and intimate retreat, Twin Farms in Barnard is the epitome of luxury. Situated on over 300 acres of stunning countryside, this all-inclusive resort offers guests a truly immersive experience. Each of the uniquely designed cottages and suites provides a sense of privacy and seclusion, creating a serene haven for relaxation. Indulge in gourmet dining experiences tailored to your preferences, explore the extensive art collection, or engage in a wide range of outdoor activities, including hiking, fishing, and skiing. Twin Farms is a sanctuary where personalized service and attention to detail elevate the Vermont experience to new heights.
Stowe Mountain Lodge, Stowe
Nestled at the base of Vermont's highest peak, Stowe Mountain Lodge is a world-class resort that seamlessly blends luxury with natural beauty. Surrounded by majestic mountains and lush forests, this lodge offers a haven for outdoor enthusiasts and relaxation seekers alike. The spacious and elegantly appointed guest rooms and suites provide breathtaking views, while the lodge's amenities, including a state-of-the-art spa, an outdoor heated pool, and a variety of dining options, ensure a truly indulgent stay. Stowe Mountain Lodge is also an excellent base for exploring the nearby Stowe Mountain Resort, where skiing, snowboarding, and hiking await.
The Essex Resort & Spa, Essex
Located just minutes from Burlington, The Essex Resort & Spa is a hidden gem offering a unique blend of rustic charm and contemporary luxury. Set on a sprawling property, this resort features comfortable and well-appointed accommodations that reflect Vermont's distinct character. With multiple dining options, including a farm-to-table restaurant and a cooking school that celebrates the local culinary scene, The Essex Resort & Spa delights guests with a gastronomic journey.
Unwind at the full-service spa, which offers a range of rejuvenating treatments, or take advantage of the resort's recreational facilities, including tennis courts, a fitness center, and an indoor pool. For those interested in hands-on experiences, the resort offers cooking classes and workshops to enhance your culinary skills. The Essex Resort & Spa is a captivating retreat that combines relaxation, culinary delights, and Vermont's natural beauty in perfect harmony.
The Pitcher Inn, Warren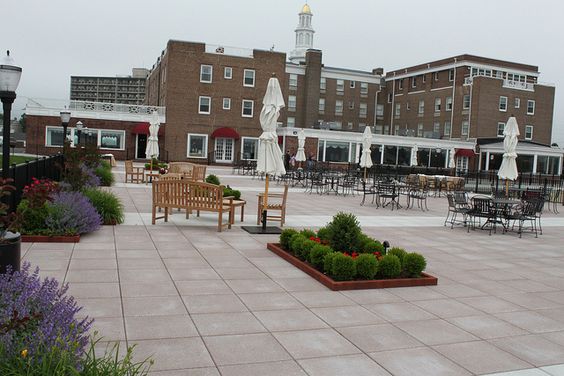 Nestled in the charming village of Warren, The Pitcher Inn is a boutique hotel renowned for its exquisite design and impeccable service. Each of its rooms and suites is uniquely decorated, offering a blend of elegance and whimsy. From the cozy and intimate atmosphere of the rooms to the delectable cuisine served at the inn's renowned restaurant, The Pitcher Inn captivates guests with its attention to detail. The inn's location provides easy access to the picturesque Mad River Valley, where outdoor enthusiasts can enjoy activities such as skiing, hiking, and biking. With its combination of luxury, charm, and personalized service, The Pitcher Inn promises an enchanting stay in Vermont.
The Reluctant Panther Inn & Restaurant, Manchester
Nestled in the heart of Manchester, The Reluctant Panther Inn & Restaurant is a historic and charming property that offers a refined and intimate atmosphere. The inn features elegantly appointed rooms and suites, each boasting luxurious amenities and unique design elements. Indulge in the inn's award-winning restaurant, where culinary artistry meets local flavors, creating an unforgettable dining experience. Explore the quaint town of Manchester, known for its boutique shops and art galleries, or embark on outdoor adventures in the nearby Green Mountains. The Reluctant Panther Inn & Restaurant is a hidden gem that promises an exceptional stay for discerning travelers.
Topnotch Resort, Stowe
Surrounded by the majestic peaks of Stowe, Topnotch Resort offers a blend of sophistication, tranquility, and outdoor adventure. The resort's spacious and elegantly furnished accommodations provide a luxurious retreat after a day of exploring the nearby mountains. Enjoy a range of activities, from tennis and swimming to biking and hiking, or relax at the world-class spa, which offers rejuvenating treatments inspired by Vermont's natural resources. The resort's dining options highlight locally sourced ingredients and offer a delightful culinary journey. With its breathtaking setting and exceptional amenities, Topnotch Resort is a haven for both relaxation and adventure seekers.
Conclusion
Vermont's best hotels embody the spirit of this charming state, offering a harmonious blend of natural beauty, warm hospitality, and luxurious accommodations. Whether you seek a historic inn that transports you to a bygone era, a contemporary resort that caters to your every need, or a secluded retreat that promises privacy and serenity, Vermont's diverse hotel offerings cater to every preference.
These exceptional properties not only provide comfortable and elegant accommodations but also offer access to Vermont's breathtaking landscapes, vibrant culinary scene, and wealth of outdoor activities. Whichever hotel you choose, an unforgettable experience awaits, allowing you to create lasting memories in the captivating state of Vermont.